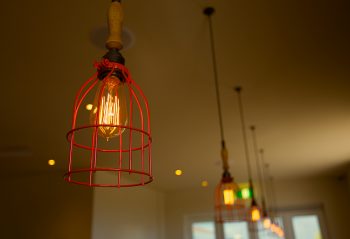 We visited the newly revamped Plough Hotel on Friday night. As locals we are happy to have another quality venue opening up nearby and we had a special interest in this particular place as it has undergone numerous changes over the years and we were intrigued to know what changes were afoot.
The  latest reincarnation is the work of local restauranteur Tina Kyriakou. The PLough is located at 333 Barkly St, Footscray, it is one of our closest pubs with local boutique beers, ciders on tap and specially selected local wines. Mmmm, how exciting!
And there's the food. Not a huge menu but the food was delicious and fresh, the service great, and boy!….was the place pumping on a Friday night? Hell yeh. It was definitely a full house which is no mean feat as the place is really BIG and spacious. For a more official foodie report…
The Plough is a lovely fit out with real integrity which is apparent in all aspects of the interior design. With much of the lighting design components supplied by Edison Light Globes, features include a set of Bronze Trouble lights with gal cages painted red and a special timber color to match existing timber colors, an assortment of bulbs, the standard E27 Teardrop Squirrel Cage with a few 125mm Fancy round Edison Vintage, in the service area and bathrooms there are our Bronze batten holders and upstairs the Motel section (did we mention you can sleep there?) uses bronze version of the Dolls House wall light.
Focus and commitment has gone into the refurbishment of this Pub and we are sure The Plough will find a niche in this fabulous diverse area of the inner West.