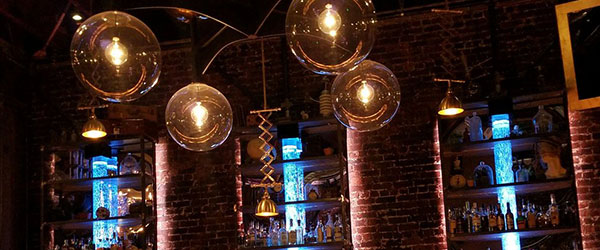 Edison Goes Steampunk at Rusted Mule in San Francisco. Entering this 1908 brick-walled space, Rusted Mule (opened in February 2017) is a nautical, steampunk wonderland of dramatic chandeliers, metal and copper works (including a large range of our re-purposed ships lighting and custom brass lights).
The bar's vibe is intended to be "soft steampunk," with custom-made creations from San Francisco and Oakland artists, including a metal sculpture of a mule on the mezzanine. LED lighting abounds, and the bar itself is illuminated with amber onyx, creating a look reminiscent of melting lava.
The space was formerly Sudachi Sushi, but when Cosentino and his partners tore down the walls, they found the original brick from 1908, and decided to keep it. "The look and feel just felt right," he said.  The exterior has been stripped to reveal the original brick and stone design.
Opened by Kristian Cosentino, Joseph Epstein, Christina Mae Henderson, Chris Mansury and Richard Vila, the lofty space holds a mezzanine with velvet couches and tables made from massive trees under skylights.
Edison had previously worked with Cosentino on his past project Dirty Water also in San Francisco. This is when Cosentino discovered our strong steampunk vibe and the many suitable products we had for this new project.
Multiple Brass Adjustable Scissor Pendants take pride of place suspended over the bar.  They are accompanied by large bubble like orbs turned into pendants with LED globes.  The reclaimed ship lights on mass have a beautiful effect providing directional light for the leather chesterfield-esque couches below.
It's worth checking out if you are lucky enough to live around here.  It will certainly be going on our wishlist of places to visit.