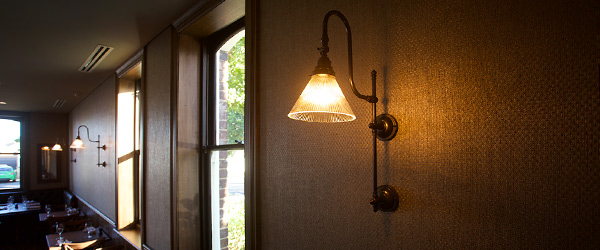 Sawyers Arms Tavern bar lighting revives historic hotel restaurant in Newtown Geelong making great use of our standard pendant and wall lighting styles. The Sawyers arms tavern has been the operated by the Clatworthy family for 60 years.
Peter Clatworthy is the current manager and has set about renovating the interior and kitchen facility. Being one of Geelongs original restaurant hotels, it was seen important to retain the historic flavour. The Original hotel was built and opened by John Jackson in 1850. Jackson entered the business of innkeeper with interests also as a timber merchant. It was used often in its early days for political and social gatherings.
Other licensees include Jack Jennings a former Geelong football club president who changed the name to Kardinia Park Hotel. Eileen Clatworthy affectionately known as Mrs Clat along with husband Kenneth took on the lease in 1958. Until this day the hotel has remained a popular meeting place for locals to gather for a drink and a meal.
The bar area retains the original ceiling height and so the selection of brass bar suspended billiard table lights gives some interest visually as a division. The clear glass shades over the bar feature vintage bulbs that provide a warm subdued light with a heritage feel suited to the age of the building. Three lamp and four lamp versions of custom length provide the solution for this irregular shaped bar.
The solid brass hardware has been selected as bronze plated color to combine with the timber and brick surfaces of the interior.
The wall lights selected are our Bronze adjustable arm wall mount and holophane shade reminiscent of gas lamps used prior to electrification. These are used to great effect to combine with a refined decor that creates a private dining experience. These wall lights have been secured to new timber paneling in the newer areas to the rear of the building. This ties the whole interior design together as they are also fixed to the original brickwork and wallpapered formal dining room.
The best part is the large off street parking area that provides security for the Mk2 jag we drove down in for the day trip.