Product Description
Plumbing Pipe Billiard Table Light with Fixed Shades. This ceiling light is perfect installed over a billiard, snooker or pool table.  Alternatively it would look great over a large dining table, bar or as a ceiling feature light.
This Plumbing Pipe Billiard table light with fixed shades features 3  steel shades that are 310mm in diameter hard fixed so that they do not require a gallery. We make up a custom bend pipe section for the outer lights. This industrial plumbing pipe design is based on an original farm made fitting from the 1930's. Secures to the ceiling via a single steel pipe and cast steel canopy which is also the wiring point. This light fitting weighs around 6 kgs therefore a secure mount will be required in the ceiling cavity.
Options
Plumbing pipe components available in standard Galvanised iron, Rusted iron, Painted finish, and Raw steel, supplied as linseed oil rubbed. The rust finish will continue to age slightly but a coating of "Penatrol" will seal in a darker rustic finish. See gallery images.
Also available as a 120V version supplied with 4inch J-Box canopies. The ceiling canopies for 120V connection are supplied to connect via standard J-Box mount. For 120v requirement choose E26, for 240v requirement choose E27. Note that for E26 120V lighting, UL listed components are used but the light fitting itself is not UL listed.
Pictured with ST64 vintage filament globes.  Globes are not included however any E27 bulb can be used, including LEDs.
Recommended globes are listed below.
Pendant suspension drop
Choose a specific drop length from the ceiling to the top of the shade. We assume a minimum of 370mm drop to allow some distance from the ceiling.  All shades for this product are 100mm in depth therefore use this dimension to calculate your total drop (see diagram).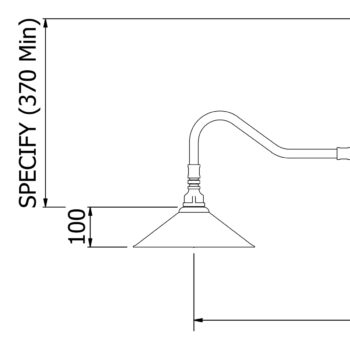 Shipping and Installation
We pack and ship the billiard table light as separate components to adhere to local and international shipping requirements. For packing, shades are detached  along with any ceiling plate or single pendant upright extension components. Your electrician can reference the image listed online to complete the installation. Importantly only fix the shades in place once the light is fully installed.
Billiard Table Light Features:
Vintage industrial design. Steel and cast plumbing pipe construction. Using Solid Brass lamp holders.  Includes 3 X 310mm metal style shades. Range of surface finishes.
Finish options:
Plumbing pipe components available in Galvanised, Rusted, Raw steel oil rubbed and Flat Black finish. (See gallery images)