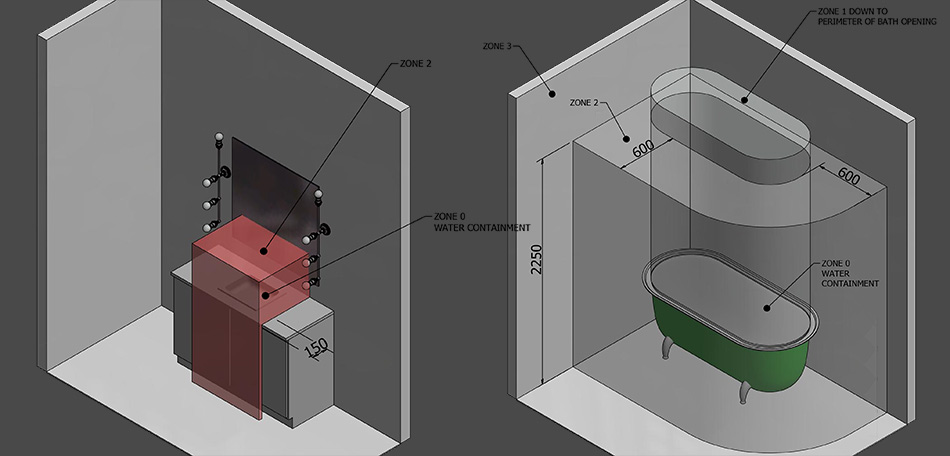 Australian bathrooms lighting regulations and requirements for the correct placement of lighting for Australian and New Zealand are included here with reference to AS/NZS3000.
Can I install a decorative light fitting in a bathroom?
In Australia and New Zealand at least, a licensed electrician must carry out all domestic electrical installations. There are strict rules and regulations (AS/NZS3000) that must be followed, and wet areas such as bathrooms, laundries and kitchens require special attention. A good electrician will be able to guide you as to what is allowed in your situation, so get them involved early in the design process. (That goes for the plumber too.) If you are using a designer then they should be aware of these requirements as well.
Can I install a 240V light fitting in a bathroom?
The short answer is yes as a standard fitting, provided it is outside of the zones deemed unsafe. If a pendant is inside the protected zones then it will need to be either low voltage (12 Volts AC), IPX4 rated, or double insulated. Where this zone occurs in a bathroom is often the complex issue for designers and electricians alike. There is a document source for the answer but since it is Copyright we are unable to reproduce it here (##@?). The regulations are administered by your electrician and any authority that may be required to check the installation.
Bath with no shower overhead
In our reading of the bathroom lighting regulations document it appears that a 240V standard pendant is allowed over a bath provided it does not protrude into Zone 1. Zone 1 is 2.5M (Australia) or 2.25M ( New Zealand) from the floor directly over the water line in the bath. If you have a ceiling height of around 3.0M then a pendant may well be directly over the bath. Where there is a lower ceiling however a 240V pendant will need to be IPX4 or fixed from the ceiling 600mm away in Zone 2 (IPX4, low voltage  or double insulated) or beyond in Zone 3 (no restriction). Barriers like screens and doors that protect from spraying water may be used to limit the extent of a classified zone. Detailed information is available in the Standards document (AS/NZS3000).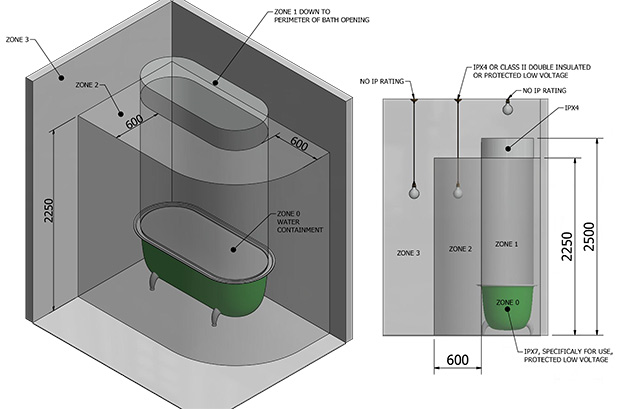 Hand basin wall lighting
There is a protected zone (Zone 2) around a hand basin with reference to the top of the basin.  This wall zone extends above the top of the basin 400mm and beyond left and right by 150mm.  Inside this zone it is required that light fittings must be IPX4 OR double insulated OR low voltage. Outside this zone there are no special requirements in terms of voltage or IP rating. When looking at wall lighting around a mirror for instance it appears that it is quite reasonable to design with decorative lighting as illustrated.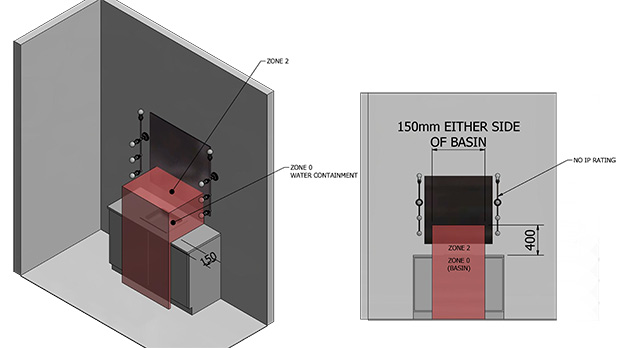 More about Zones
When water is in close proximity to electricity, we generally agree it's potentially a bad situation if you are there too. When there is some distance between water and electricity we feel safer. Zones are designed to define areas with precise measurements in an effort to keep you safe. In the wiring standards AS/NZS3000 bath, shower and fixed water container section, there are four zones. Each zone has its own rules on what can and cannot be installed.
Zone 0: Best thought of as the area that may collect water such us the shower trough, a sink or bath.
Zone 1: Usually adjacent to Zone 0, i.e, shower walls.
Zone 2: For showers, it is the area immediately outside the shower door area. For vanities and baths, it is the area surrounding the water containment.
Zone 3: An area outside of zone 2, usually thought of as the least restrictive.
An obvious example on the use of zones is in Zone 0, power outlets are not permitted. You do not want a power point in the base of your shower!
Bathroom lighting regulation zones are as follows:
Zone 0 is permitted, but it must be designed specifically for use in a bath or shower, be low voltage and have an IPX7 (Ingress Protection) rating.
Zone 1 requires IPX4.
Zone 2 requires IPX4 OR double insulated OR low voltage OR be recessed into the ceiling.
Zone 3 has no IP rating requirements.
Essentially this post is provided to allow designers and home owners a brief understanding of the bathroom lighting regulations in Australia and New Zealand as we understand them. The ultimate authority is however your licensed electrician but this information may make it easier to come to a better design resolution for your bathroom. Since most of our fittings are made of brass they are perfect for damp areas. Brass will not rust and can be re-polished or cleaned over time. Nickel plating over brass will perhaps be the surface that requires the least amount of cleaning. We can also supply ceramic lamp holders and batten holders again that perform well in damp environments. Plumbing pipe fittings can also be a great design feature in a bathroom but you may need to use galvanised or painted finish to maintain in a damp situation.
Low voltage for this purpose will require 12V and we are now introducing a rage of 12V LED globes at this voltage for use in bathroom fittings