Product Description
Antique brass single drop small table light with a range of metal and glass shade options. This solid brass ceiling pendant is designed to light up a small table or bench.
Constructed in solid brass and comes with 2 standard ES lamp holders and 2 1/4″ shade holder galleries attached. Shown in the main picture is the antique brass dome shades. Antique brass hardware finish is coated to avoid tarnishing but will require cleaning with a non-abrasive furniture polish.
This Antique brass single drop small table light is a perfect solution where one central wiring point is required for installation. The brass bar suspension drop is available in various lengths. Made with standard brass tube and decorative joiners to compliment the style of the light fitting.
Made with standard brass tube and decorative joiners to compliment the style of the light fitting. Supplied with matching antique brass ceiling plate and 1/2″ brass suspension bar including all screws for installation.
Pendant suspension drop
Pendant drop bar is threaded to attach the light fitting to the ceiling canopy therefore the exact length is required when ordering. The rod suspension reduces the potential for swaying in high air movement areas, such as air conditioning or near a doorway.
We recommend hanging this light around 32 inches above a table or bench surface for best lighting. Shaded metal shades will provide a more direct light without spill onto ceilings
When placing your order you will need to specify the drop length required from the ceiling canopy to the top of the shade. The total pendant suspension drop will vary depending on the shade you choose. Total suspension drop = (Pendant drop + shade height).  We have included a short list of shades available and their drop dimension listed under "Lamp shade dimensions" tab so you can calculate the total pendant suspension.
You can also select the 'no shade' option and choose your own shades in 2 1/4″ gallery fit.  Or choose bare bulb and the  "no gallery" option.  If you prefer a larger shade you can select a larger gallery and shade separately.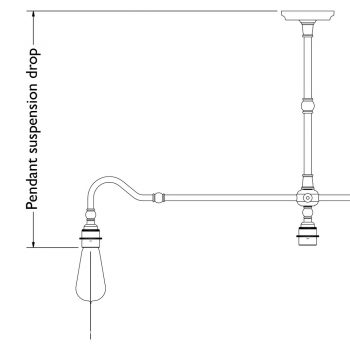 Lamp Shade dimensions
This chart is used to fine tune pendant drop calculations
No shade: Shade height: 0mm Shade width: 0mm
Antiqued Green: Shade height:90mm 3.5″ Shade width: 200mm 7.8″
Steel hat: Shade height:80mm 3″ Shade width: 200mm 7.8″
Bronze cone: Shade height: 125mm 5? Shade width: 185mm 7.3″
Bronze dome: Shade height: 125mm 5″ Shade width: 178mm 7″
Clear cone: Shade height: 125mm 5″ Shade width: 178mm 7″
Clear dish: Shade height: 35mm 1.4″ Shade width: 220mm 8.7″
Holophane cone: Shade height: 110mm 4.3″ Shade width: 178mm 7″
Holophane dish: Shade height: 65mm 2.6″ Shade width: 200mm 7.8″
Enamel shades: Shade height: 75mm 3.0″ Shade width: 305mm 12.0″
With a larger pendant drop the bar will be made from more than one components and joined with a decorative coupler.  This enables us to extent the pendant suspension for longer drops and also allow us to dismantle and save on shipping costs.
Country voltage
Also available as a 120V version. For 120v requirement choose E26, for 240v requirement choose E27. Note that for E26 120V lighting, UL listed components are used but the light fitting itself is not UL listed.
Made by hand to order in our workshop. Precision brass components combined with exacting assembly make this a robust light fitting suitable to both domestic and commercial settings.
Shipping and Installation
This small table light is packed and shipped as separated components to adhere to local and international shipping requirements.
Glass shades are always packed separated from heavy brass items. All shades and ceiling plate components are packed detached. For shipping purposes extra length lights are often sent as two separated lengths that simply require screwing together prior to installation. Your electrician can refer to the image reference online.
Only fix the shades in place once the light is fully installed.  A range of shades are available or supply your own.
Features:
Vintage Edison design.
Choice of overall drop.
Solid brass construction.
2 Solid brass lamp holders.
Matching color ceiling rose.
Steel and glass shade styles.
Finish options:
Light fitting including or excluding galleries.
Shades available in various materials and finishes.
Globes :
A range of E27 globes will fit this light fitting.
Globes are not included.
Recommended globes are listed below.