Product Description
Vintage Edison Cross Billiard Table Light. This solid brass ceiling light is designed to be installed in a pair to evenly cover a full size (12 foot) billiard table, pool table, snooker table. 
Constructed from solid brass with four standard lamp holders. Shown in the main picture is the 270mm flat black dome light shade, bronze finish hardware, and 4 chain stiffeners with turnbuckle adjustment. This extra large light can be used to cover a 12 foot billiard table (pool table, snooker table) as a set of two lights. Shade diameters vary however we recommend using the larger shades to suit the proportions of the light.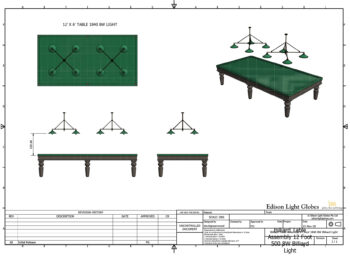 Antique Brass and Bronze finish of the lamp hardware is coated so that it will not tarnish but will require cleaning with a non-abrasive furniture polish. The New Brass finish of the lamp hardware is polished but not clear coated so that it will tarnish naturally and will require polishing with Brasso® to maintain its high gloss finish. Pendant maximum diagonal width is 1253mm. Supplied with matching brass painted cast iron ceiling rose.
Also available as a 120V version supplied with a canopy for 4 inch J-Box. The ceiling canopies for 120V connection are supplied to connect via standard J-Box mount. Note that for E26 120V lighting, UL listed components are used but the light fitting itself is not UL listed. Choose between E27 for 240V requirements, and E26 for 120V requirements.
Pendant Suspension Drop
You will need to accurately specified the rod length. Pendant drop rods are threaded to insert the light fitting into the ceiling canopy.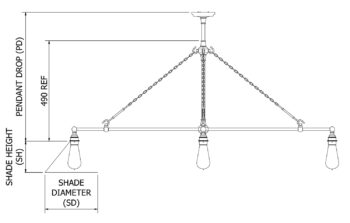 To order specify the drop length from the ceiling canopy to the top of the shade. The total pendant suspension drop will vary depending on the shade you choose. Total suspension drop = (Pendant drop + shade height).  We have included a short list of shades available and their drop dimension listed under "specifications" tab so you can calculate the total pendant suspension. You can also select no shades option and choose your own shades in 2 1/4″ fitter size. Please note that due to the design and structure of this pendant the minimum drop length is 625mm (24.6 inches).
Shipping and Installation
This billiard table light (pool table, snooker table)  is packed and shipped as separated components to adhere to local and international shipping requirements.
Glass shades are always packed separated from heavy brass items. All shades and ceiling plate components are packed detached. Ceiling drop length and stiffener chains are supplied to install in situ. Your electrician can refer to the image reference online.
Only fix the shades in place once the light is fully installed. Available in New Brass,  Antique Brass, or Bronze. A range of shades are available or supply your own. Some shades require brass galleries (see images).
Install pendant around 32 inches above table surface for the best lighting for pool, snooker or billiards. When selecting shades for a billiard, pool or snooker table  we recommended metal shades to reduce player eye glare.
Bulbs are not included and can be ordered separately. depending on the hardware type and bulb shape required.
Vintage Edison Cross Billiard Table Light Features:
Vintage Edison design. Custom height and width to your specification. Solid brass construction. Four solid brass lamp holders. Matching cast ceiling rose/canopy is a standard supplied component. Steel and glass shade styles. Range of surface finishes.
Finish options:
Light fitting includes chain, lamp holders and galleries.  Available in New Brass, Antique Brass, and Bronze. Shades available in various materials and finishes. Some shades have a white or off-white reflector and some have natural metal colour. Refer to "Metal Shades" list of hardware. 
Globes :
A range of E27 globes will fit this light fitting. Globes are not included. Recommended globes are listed below for 270mm dome shade style.
Download Augmented Reality 3D App
Click on the links below when viewing with a mobile or tablet and follow the instructions to place this 3D model in your space.