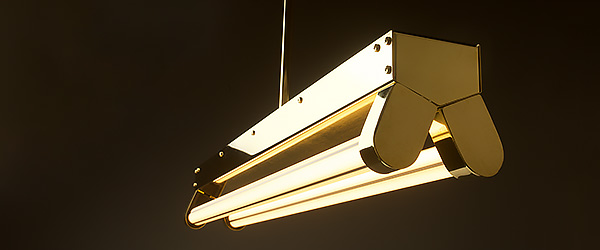 At Edison we are always striving to stay ahead of the latest trends, so it is important that we are constantly developing and prototyping new lighting designs. Our latest design is a stunning Art Deco inspired brass light that was crafted by hand in our workshop in Melbourne, Australia.
The inspiration for this new light was a rare vintage 1920's German Hillebrand fluorescent tube pendant. Vintage lighting is always an inspiration for us. When we are not restoring or retrofitting vintage fittings we are designing new quality fittings that stand the test of time.
The first step in the design process was to develop the components to enable us to build this light using LED technology. Using LED gave us the ability to create a lamp with a range of options for dimming and colour temperature. Normal production LED strip lights do not have replacement LED components but due to the build of this light we have developed replaceable components making this brass light a future proof solution.
The prototype was built in our workshop with solid brass sheets folded to create a box that contains the low voltage driver and the pendant support systems. Brass sheet is also used to house the special LED tube mount blocks that are currently 3D printed in-house. The light can be suspended by a single solid brass tube of varied lengths available when ordering.
The finished result is a stunning feature light that provides the perfect solution for task lighting in hospitality, commercial or domestic settings. The timeless design of this polished brass Art Deco light is perfectly suited to both modern and heritage interior spaces.
Because this system uses a poly carbonate cover over LED strip and no glass, this light fitting qualifies as shatterproof making it ideal for food preparation areas.